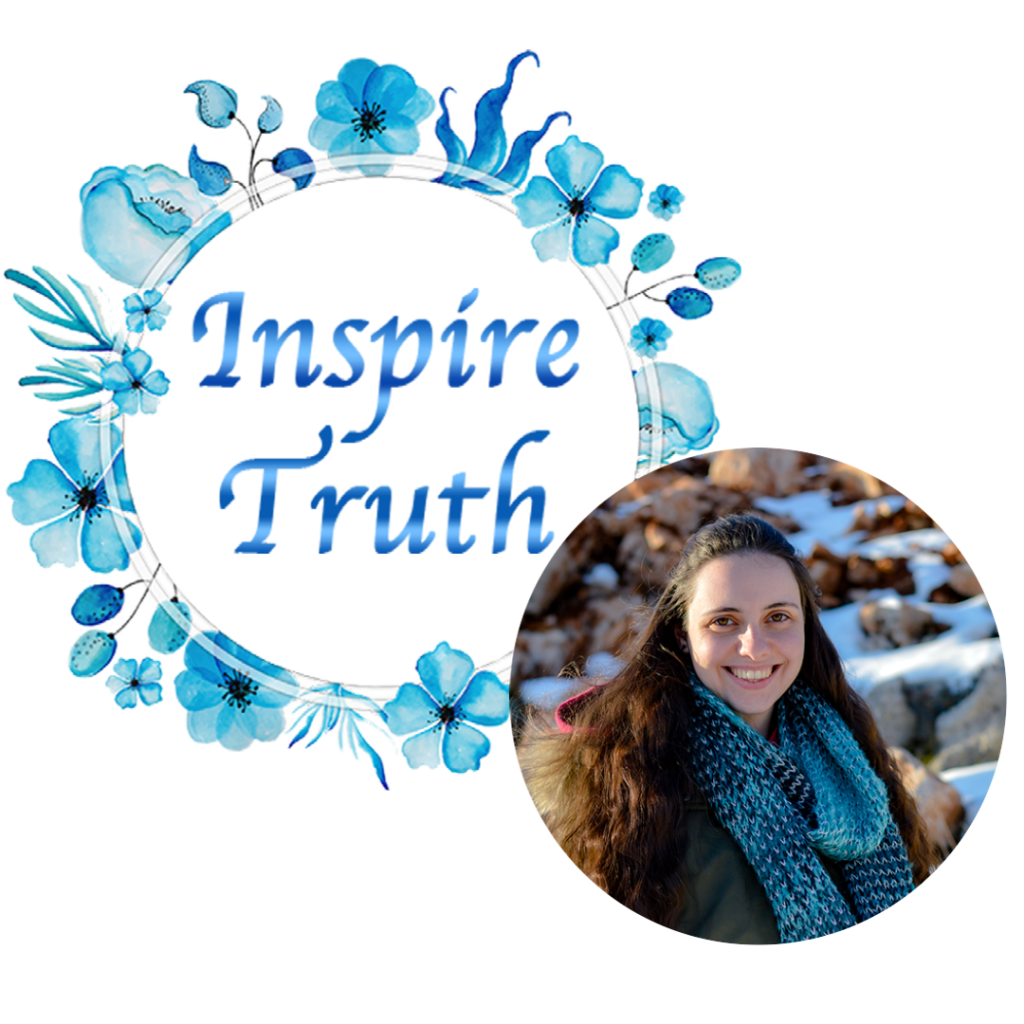 Welcome to Inspire-Truth!
My name is Hannah-rose Russell. I am a writer with a passion for sharing the Word of God with those searching for TRUTH while also introducing them to books and people who will INSPIRE and impact their lives.
I pray that Inspire-Truth will be a blessing to your life and will lead you to open your heart to the Father because He has something in store for you that is beyond your wildest imagination! There is so much we have yet to understand, but each day we walk with Yeshua (Jesus) is a day closer to learning more about who we are and the calling God placed on our hearts!
SIGN UP FOR INSPIRE-TRUTH'S MONTHLY NEWSLETTER
Follow Inspire-Truth on Social Media
Heather Morris concludes The Tattooist of Auschwitz series with another shocking and inspiring novel, Three Sisters. 
Recently, I've been struggling to understand why my family observes the Feasts of the Lord while the rest of the Christian world ignores them.

One of the most dangerous stumbling blocks of our faith is doubt. No one is exempt from its attack, we will all question God's existence.

We made it!!! Who would've thought that 2020 would actually come to an end? This has been one of the most challenging years I have ever known!

Throughout the Bible, we are told to ask for wisdom and understanding, and we shall receive it; but, what happens when our prayers are answered?

Being in pain sucks. Finding joy in tribulation might feel like a feat, but it's easier than you think. When we put our hope in God, we will find comfort!

"Pride comes before destruction," so what do you do when Satan's whispers become louder than the voice of Truth? Whose voice are you going to believe?

People love giving their opinions, but should believers meddle in God's plans for another? What is the status quo and does the Bible have anything to say?

Do you feel like you are in the desert, surrounded by emptiness with no sign of God's presence? May this week's blog be an encouragement.

Do your words and actions represent the fruits of the Spirit or are you unconcerned about the effect they have? That used to be me, but not anymore!

Where are the disciples who will minister the truth to these new believers, sowing them into good, fruitful, soil?
What's life like in Israel? It may seem like living in the Holy Land is a dream come true, but, let me tell you, it's no walk in the park. From struggling with the language barriers to getting into the strangest predicaments, our adventures are never boring. Join us as we travel around the Land! If you don't laugh, you'll cry! haha
We were invited to attend a traditional Yemenite henna ceremony — a pre-wedding gathering that celebrates the bride leaving her family..

Getting a facial should be a revitalizing experience, right? At least, that's what it seems like when influencers post about facials.

I recently discovered that to renew your license after driving for five years, I was required by Israeli law to take a "refreshers" course.

Most people go to the beach or forest for a joyful picnic, not the Russells; we go to the snow, where our butts freeze, and we're layered up!

When someone breaks a bone, it's important to get follow up x-rays to determine the healing process. These visits to the clinic tend to be straightforward; you walk in, give the front desk your doctor's note, get the x-ray, and leave. However, at my six-week check-up, it was anything but a walk in the park…

Since the beginning of this year, I've been craving the true essence of winter; but what can you do to get the feeling of winter in a country that can't seem to make up its mind? Well, the expensive solution would be to fly to a place where there is snow, and the temperature is …

The event you're about to read, in the coming paragraphs, is just a sneak peek into what life can be like in Israel. It's not always like this, but it sure does make my day better when it is!
POETRY BY JOY LUCIA HUNNEYBALL
Then everything stops... Floating in the space of her thoughts, Joy Lucia Hunneyball compares the May 30th launch to her own achievements. With skills in a multitude of things, but mastery of none, she wonders how she can make a difference and what landmark she will leave behind.

Joy Lucia Hunneyball stands in awe of God, breathing in His goodness and declaring, "To Him be the glory!" This inspiring poem will encourage readers to look at the gifts God has given them and offer up a shout of praise, even when the fight seems hopeless!

In a moment of reverence, Joy Lucia Hunneyball goes into her room to intercede, cry, and worship before the Father. With a heavy heart, she shares a special prayer to encourage those feeling lost. We are all overcomers through Him, and we are not alone!

Joy Lucia Hunneyball shares an intimate conversation with God about growth, guidance, spiritual battles, and admiration, in this original poem!

An original poem by Joy Lucia Hunneyball. In a moment of awe and wonder, Joy expresses her admiration of God's care and faithfulness. We are warriors and vessels to by Him!