It is winter in Israel, or at least it is some days. Every morning I wake up and question what I should wear according to how cold or warm it feels in the house. I'm starting to think that this season is bipolar during its time in Israel. One part of the country might be sunny, while another has torrential rain with people watching their deck chairs fly across the garden.
I love the cold. It's great to bundle up in warm clothes, drink hot chocolate by the fire and feel like a hibernating bear when you go to bed with loads of comforters on top of you. But, Israel has confused the whole winter experience for me. Some nights I'm so cold that I go to bed wearing multiple layers and need to add more blankets to my collection, while other nights, I'm boiling.
Since the beginning of this year, I've been craving the true essence of winter; but what can you do to get the feeling of winter in a country that can't seem to make up its mind? Well, the expensive solution would be to fly to a place where there is snow and the temperature is below zero, while the cheaper option might be to go ice skating, but is there even an ice rink in Israel?
It turns out that there are a total of three ice rinks in Israel (Tel Aviv, Metula, and Eilat)! The closest one to where I live is in Tel Aviv. It was exciting to learn that I was less than an hour's drive from it, but the next obstacle was finding someone to go with me… Thankfully, a friend from England, who was still in the area, was willing to join me on this adventure.
We had a blast! The rink was small, but arriving just as the doors opened allowed us to have the place to ourselves for close to an hour! As a regulation, we were given knee, elbow, and hand pads. Putting them on was humorous; never in our lives had we gone to a rink where we were given padding to wear.
The hour went by so quickly that I didn't want to leave. Instead of quenching my thirst for a little winter experience, skating reignited my love for the sport. As soon as we'd left, I wanted to go back; so, when my 83-year-old grandfather asked my mom and me to take him skating, who was I to say no?
This next adventure took us to the Canada Centre in Metula. It is located on the Lebanese border and has been open since 1995. Honestly, the place doesn't seem to have been upgraded since its opening, but more to come on that later.
Upon arriving at the Canada Centre, there were problems. With no apparent signs of accessible parking, we parked near a staircase seeming to lead to the entrance. My nan has a hard time with stairs, but we thought 15-20 would be alright…
At the top of the stairs, our first hurdle was complete. Now, we just needed to get our tickets and see what happened when you put an 83-year-old on ice.
We seemed to get a great package deal on skating, bowling, and a 7-D movie experience. It looked promising, and the place was full of kids, so what could go wrong?
(If only I got a shekel for every time I asked that question)
Climbing the stairs to the entrance -✅; Getting our tickets -✅; Finding the ice rink… WHAT, more stairs?! Wasn't there an elevator in this place?
Just as people follow the smell of food to find the source, we followed the cold air to locate the rink. Now, this was the winter weather I was looking for!
Getting the rental skates on was a challenge. You'd think their condition would've been our millionth warning that this day wasn't going as planned, but we were all optimistic that it would get better.
Let's put it this way; the skates were one fall away from complete destruction; the buckles were half-broken, and some of the cracks made tightening the boot a problem.
Descending more stairs -✅; Successfully putting on half-broken rental skates -✅; Getting on the ice to skate… oh boy!
From the minute we stepped on the ice, something was wrong. I couldn't go a step without slipping sideways. The blades were unmistakably blunt. My grandfather was also having problems and turned back before an accident happened. However, my mom and I were willing to give the place a second chance, so we went back to the counter to ask for another pair of skates.
Putting on the second pair was easier now that we'd mastered how to work past the broken clips and the splits in the plastic. My mom and I felt hopeful, but did the skates? I made it halfway around the rink before my trust in their capability ran out. There are hundreds of better ways to die or get seriously hurt, and this wasn't one of them.
My mom also had trouble with her second pair… have you ever heard of skates being so old that they wouldn't move?
So, ice skating was a bust, but the day was far from over. We still had tickets to go bowling and see the 7-D movie; this certainly couldn't be as bad as our skating experience, right?
Oh Lordy…
Down another 30 steps, we reached what they called the 'bowling alley.' The lights were off, and there were no people around except a lady cleaning trash off the floor and two employees smelling of smoke and booze. My first thought was that the alley was closed for repairs, but after showing the employees our tickets, we were directed to a lane and told to start playing.
At this point, I was wondering what had happened to the place in the pictures. The website looked professional and clean, like a place you'd find in Canada, but unfortunately, we were still in Israel.
Nevertheless, bowling was bowling, and though were holes in the ceiling and the room was as cold as the ice rink, what could go wrong with throwing balls at pins?
Is that another shekel?
The bowling staff told us that our outdoor shoes were sufficient and that we didn't need proper bowling shoes, though my mom managed to get a pair while directing the guys to fix the hot chocolate machine. (She's got chutzpah)
With a small selection of bowling balls to choose from, picking the right one was harder than you'd think. Remember watching The Flintstones as a kid? Well, imagine the stone balls Fred and Barney used, add a bit of color, and you've got what we were dealing with. The bowling balls were dented, scratched, and far from new.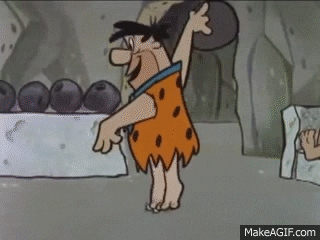 Trekking into the basement-like bowling alley -✅; Finding a ball that rolled -✅; Playing a game…This shouldn't be too difficult.
Once we'd selected the best balls we could find, the game was afoot… Let's just say that it wasn't as intriguing as a Sherlock Holmes case. The lane was just as terrible as the balls, there was also no keyboard to add our names to the scoreboard, and the seats had large tears in them.
For most of the game, we got gutter balls due to the slant in the land. Well, all of us except for my nan. She surprised us all this day. She was a trouper with the stairs and a superstar at bowling! I loved watching my nan toddle to the line, throw the ball, and witness its slow journey towards the pins, which would ultimately knock them over.
By the end of the game, our scores couldn't be more incorrect. The computer had given us points when we hadn't gotten anything, and instead of calculating spares, it had counted them as strikes. What a balagan! (Hebrew word for chaos)
Everyone was ready to call it a day and start the hour drive back to my grandparent's house when I reminded them that we still had to experience the 7-D movie. My mom didn't want to chance what horror we might find upon walking into the small room that was the 'theater,' but everyone was up for one last adventure after a little persuasion.
One of the employees chose Mysteries of the Underworld for us to watch. He said it was the best one, but then again, he also told us that we didn't need proper bowling shoes or have to wear our seatbelts during the 7-D experience…
Have you ever seen The Bean Movie? There's a scene where Bean is at an amusement park and goes on a virtual rollercoaster. He ends up falling asleep, but after finding the control room and tweaking the speed, he decides to go on one more time. Right before it begins, Bean says the words, "Brace yourself."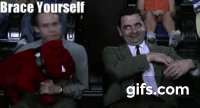 Not gonna lie; my mom and I both said this line before the movie started. The experience was hysterical! By the end of the ten-minute 'ride,' my mom and I had tears from laughing so much. Every time the chair jerked, we would hear my nan shout and could only imagine what she was going through in the row below. If nothing else had killed my grandparents that day, this 7-D movie sure would.
Complete a game of bowling – ✅; Experience the 7-D movie -✅; Leave and go home – *head smack* 🤦🏻‍♀️THE STAIRS!
Turns out, after we'd trekked up the hundreds of stairs, that there had been an elevator that led to the ice rink AND a parking lot entrance to the bowling alley! This would've saved my nan from having an asthma attack and my grandfather from worrying that my nan would die… Miraculously, the day did not end with any of us in the hospital!
Word of advice: If you're looking for a place to go ice skating in Israel, try iSkate in Tel Aviv, it's small, but the skates are great, the ice well kept, and the staff friendly. Please avoid the Canada Centre at all costs! We didn't look at their pool and spa area, but I can only imagine what that must've been like after all the other facilities we'd been to.
This was a day we will never forget! Though it wasn't the experience we were expecting, the memory will keep us laughing for years!