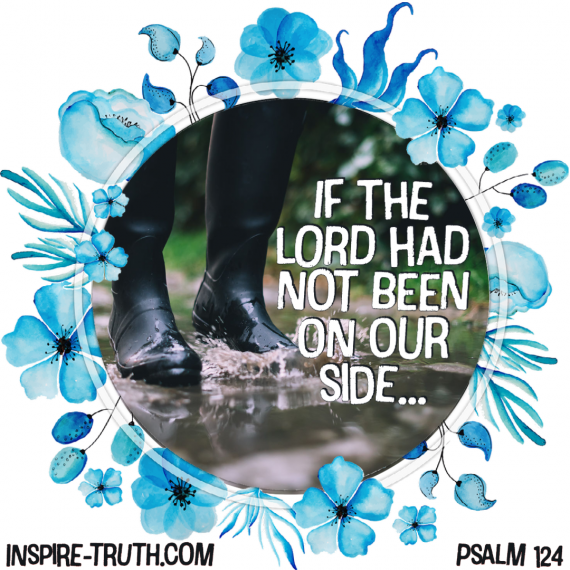 "If the Lord had not been on our side…

Our help is in t

he name of the 

Lord

,

 

the Maker of heaven and earth.

" ~ Psalm 124:1,8
Where would we be if it wasn't for the Lord's provision, protection, and presence in our lives?
The other morning, I was meditating on Psalm 124 when the lyrics to Billy Connolly's quirky yet surprisingly wise song "If it Wassne for Your Wellies" came to mind. In the song, Billy Connolly humorously sings about the consequences of forgetting to put on your wellies (rain boots) before stepping outside.
"If it wisnae fur yer wellies / Wherewud you be? / You'd be in the hospital / Or in firmary; Cause you wid hive a dose o the flu / Or even plurasie; If it wissne fur yer feet in yer wellies!" ~ Billy Connolly (If it Wassne for Your Wellies)
Similarly, just as a wrong shoe choice can expose us to the elements, when we neglect to clothe ourselves in the armor of God each morning, we leave ourselves open to the enemy's schemes of distracting us away from the Lord.
I don't want to think about what life would look like without the Lord's presence by my side. However, reading this Psalm reminded me that unless I invest my time nurturing my relationship with Him and actively adorning His armor before starting my day, the consequences could be worse than catching "a dose o the flu."
So, whether it's morning, afternoon, or evening when you read this, let it be a gentle reminder to PUT ON YOUR WELLIES (armor of God) today!