"What about you? Where's your recognition?" Satan whispers in my ear.
It can be so easy to fall prey to Satan's taunts. His words may hold a fraction of truth, but while they sound enticing, they're about as delicious as the apple in Snow White. Whatever God is doing in your life or however He is using you, Satan desires to do all he can to taint the good, sowing seeds of carnal thoughts and temptations into your mind. In ministry, especially, he will attempt to raise emotions of jealousy, pride, entitlement, ego, vanity, and authority amongst believers. Though the work God is doing through us is incredible, our human instinct can be to make it our own, taking ownership for ourselves rather than giving the glory to the Father.
Many of us strive to be number one or hear how our counsel has been encouraging, but what happens when those compliments taint the wisdom and skill God has given us? You might think that you're doing the Lord's Will by believing He is speaking through you, but Satan has a way of slithering into situations, disguising himself as truth to produce discord, false testimony, and self-righteousness.
This year, the Lord has been doing a lot of refining in my life, and, over the last few weeks, I've felt Him highlight an area I had no idea had become such a prominent issue. The moment God opened my ears to Satan's dangerous whispers, I quickly understood that I had allowed pride, ego, and vanity into my heart. Every time I spoke to my prayer group or was given a compliment, I began feeling the wrong fruit growing in my heart. While it felt good to be acknowledged and be God's mouthpiece, I knew things needed to change the moment I felt bitter after hearing someone give God the glory for the things I had been helping them with!
Getting to the root of the problem was my first course of action. Before I could address these thoughts, however, I needed to understand what they were and then seek the Father for wisdom, humbling myself before Him and asking that He show me how to turn this stumbling block into a stepping stone.
What is pride?
All over the book of Proverbs, we read of pride as coming before destruction (Proverbs 16:18-19), bringing a person low (Proverbs 29:23), and being one of the attributes that produce sin (Proverbs 21:4). Nothing good comes from pride, and Yeshua warns us to refrain from becoming a prideful/self-righteous person.
dictionary.com writes that pride is "A high or inordinate opinion of one's own dignity, importance, merit, or superiority, whether as cherished in the mind or as displayed in bearing conduct."
In Luke 18:9-14, Yeshua spoke this parable to explain how the Father looks at pride (self-righteousness), "To some who were confident of their own righteousness and looked down on everyone else, Jesus told this parable: 'Two men went up to the temple to pray, one a Pharisee and the other a tax collector. The Pharisee stood by himself and prayed: 'God, I thank you that I am not like other people—robbers, evildoers, adulterers—or even like this tax collector. I fast twice a week and give a tenth of all I get.' But the tax collector stood at a distance. He would not even look up to heaven, but beat his breast and said, 'God, have mercy on me, a sinner.' I tell you that this man, rather than the other, went home justified before God. For all those who exalt themselves will be humbled, and those who humble themselves will be exalted.'"
What is vanity?
When King Solomon went on his quest for fulfillment and purpose, he learned that vanity is meaningless. The book of Ecclesiastes speaks about these things, explaining that all attempts at finding meaning outside of God are fruitless.
The dictionary's definition states that vanity is, "Excessive pride in one's appearance, quality, abilities, achievements, etc."
We read in Matthew 6:1-7 that Yeshua warns people not to be vain, "Be careful not to practice your righteousness in front of others to be seen by them. If you do, you will have no reward from your Father in heaven. So when you give to the needy, do not announce it with trumpets, as the hypocrites do in the synagogues and on the streets, to be honored by others. Truly I tell you, they have received their reward in full. But when you give to the needy, do not let your left hand know what your right hand is doing, so that your giving may be in secret. Then your Father, who sees what is done in secret, will reward you. And when you pray, do not be like the hypocrites, for they love to pray standing in the synagogues and on the street corners to be seen by others. Truly I tell you, they have received their reward in full. But when you pray, go into your room, close the door and pray to your Father, who is unseen. Then your Father, who sees what is done in secret, will reward you. And when you pray, do not keep on babbling like pagans, for they think they will be heard because of their many words."
What is ego?
"The 'I' of self of any person; a person as thinking, feeling, willing, and distinguishing itself from the selves of others and from objects of its thoughts." (dictionary.com)
We already know that the Bible tells believers that we are to die to our flesh, but what does that mean? What is the difference between the flesh and the Spirit? Galatians 5:16-26 explains, "So I say, walk by the Spirit, and you will not gratify the desires of the flesh. For the flesh desires what is contrary to the Spirit, and the Spirit what is contrary to the flesh. They are in conflict with each other, so that you are not to do whatever you want. But if you are led by the Spirit, you are not under the law. The acts of the flesh are obvious: sexual immorality, impurity and debauchery; idolatry and witchcraft; hatred, discord, jealousy, fits of rage, selfish ambition, dissensions, factions and envy; drunkenness, orgies, and the like. I warn you, as I did before, that those who live like this will not inherit the Kingdom of God. But the fruit of the Spirit is love, joy, peace, forbearance, kindness, goodness, faithfulness, gentleness and self-control. Against such things there is no law. Those who belong to Christ Jesus have crucified the flesh with its passions and desires. Since we live by the Spirit, let us keep in step with the Spirit. Let us not become conceited, provoking and envying each other."
Notice how each of the definitions go hand in hand, focusing on the same topic: SELF! Me, myself, and I! These attributes are all about YOU and lifting YOURSELF above God. I thrive to live a life of the Spirit, and yet I had allowed fruits of my flesh to taint the work YHVH was doing through me.
"Lord, I never want to be a prideful, vain, or egotistical person! Life of the flesh brings destruction, but your Spirit brings life! I don't want to be like the Pharisee who stood and proclaimed himself better than the tax collector; I am a sinner and no better than anyone else. I also never want to be the person who exclaims all the things I do for You in a boastful or self-righteous manner; may you judge my heart and tell me if I'm ever doing things for my benefit. Help me not walk according to my flesh, but according to your spirit, keeping your voice louder than my own. Amen!"
It's so easy to be led astray by our selfish desires; it's a lot harder to fight the thoughts and train ourselves to align with the Scriptures — trust me, I'm learning this every day! However, when we stop looking at the things we do or say as our own, we give the Father the space to move through us, transforming the lives of those around us. This life is about so much more than leaving a footprint on this ever-changing earth; we can do so much for the Kingdom if we take our eyes off our personal gain and seek Yeshua first! Of course, this doesn't mean that we shouldn't celebrate our accomplishments; we just need to be aware of what fruit the praise is producing.
I know many people are struggling with these temptations and trials. It's scary to be open and honest about the things you're going through, but if we remain silent, how can we be a help to someone who thinks they're all alone in this battle? Though I am ashamed of how long it took for me to recognize what I had been allowing Satan to sow into my heart, I'm thankful that the Spirit corrected me and is continuously teaching me how to take those thoughts captive, changing their evil intentions into good. What Satan plotted to be a stumbling block or downfall, the Lord has shown me how to create a stepping stone, drawing nearer to him in the process!
You can do the same! Your thoughts are not Satan's, and the whispers he's speaking into your ears do not need to produce fruit! The road will be challenging, painful, and full of temptations and trials, but we were never promised otherwise! Even though we are believers in Yeshua, this does not mean that we are immune to sin, and we shouldn't act as though we are. The way we portray our lives through social media can make it look as though we live the perfect lives, but if believers are called to live a life of truth, why aren't we only showing the good and not being open about the struggles we are facing?
I just finished reading Love and a Little White Lie, by Tammy L. Gray, and one of the things I appreciated about this novel was how the author painted her Christian characters as realistic, imperfect humans  — click here to check out this incredible story. We all make mistakes and go through seasons of great struggle, so why has the Christian community caused us to feel shameful whenever we mess up? This isn't a, "three strikes and you're out" kinda game, but where are the mentors and the teachers who are sharing that it's okay to ask questions and go through these things?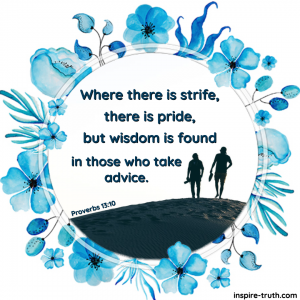 If we remain teachable and allow the Holy Spirit to correct us, God will be able to do so much more with our lives! Satan wants to plant pride and other fruits of the flesh (vanity, ego, envy, jealousy, etc.) into our hearts so that we will fail, but through Yeshua's grace and strength, we don't have to be his victims. If the last few weeks have taught me anything, it's that stumbling blocks are not our demise, but the next level in our faith walk. So, I encourage you, the next time you hear those thoughts or feel those emotions arise, ask the Father to show you how to replace the lies with the truth! Satan is a liar and wishes nothing but destruction, while Yeshua is love and desires to bring healing and glory to the Kingdom of God! Let's be part of the healing rather than the destruction!
The prayer for my life is that once I have done the work God has called me to do, I will be able to take a step back and rejoice as people give Yeshua the glory!
"Lord, refine us! Prune the thorns of pride, vanity, ego, entitlement, and the like out of our lives. Show us how to overcome the whispers when they attempt to sow evil and worldly desires into our hearts. These feelings of accomplishments and recognition that we might long for have no place in our hearts! Help us no longer live for ourselves but for you! As you use us, may we not mistake your wisdom for our own but always give you the glory. Right now, I rebuke the attacks of the enemy as he tries to destroy us with self-righteousness! Thank you for molding us and being our potter; we are your servants, do with us as you please. Help us turn the stumbling blocks Satan is putting in front in front of us into stepping stones, hearing what Your Spirit instructs. Satan's whispers have plagued our minds for too long, and I pray that they will cease, in Yeshua's mighty name! Replace his lies with truth, Father! Fill the patches of our hearts that yearn to be loved and accepted. Heal us from the spirit of pride so that we can die to our flesh and be made new every day. Guide us through these trials and continue to pour out your wisdom, so we act in a way that is humble and right in your eyes. You discipline those you love, so thank you for loving us and teaching us! All the glory is yours, and we worship in your name! Amen!"
"I have been crucified with Yeshua and I no longer live, but Yeshua lives in me. The life I now live in the body, I live by faith in the Son of God, who loved me and gave himself for me." Galatians 2:20