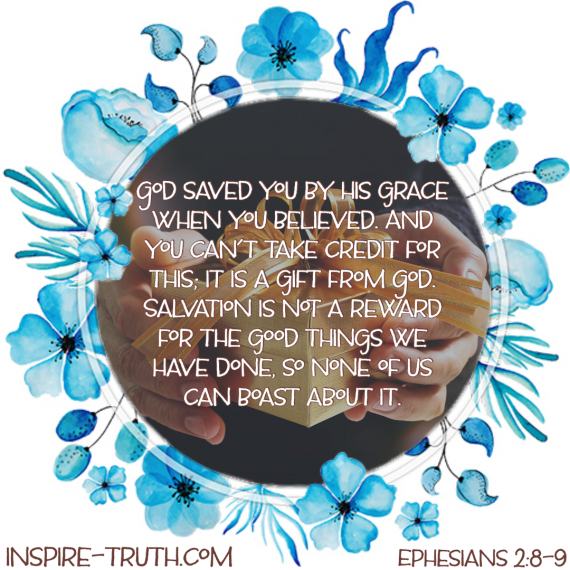 Do you feel like you have to prove yourself worthy of the gift of salvation?
The other morning, I was reading God is My Hiding Place — an excellent devotional inspired by the writings of Corrie ten Boom — and was convicted that I'd been treating the work God has given me as a way to gain His acceptance and approval. However, as I meditated on Ephesians 2:8-9, I was reminded that while it is great to strive to fulfill the calling God has placed on our hearts, we shouldn't be doing it to prove ourselves worthy because God has already chosen us and the credit belongs only to Him!
Do you know that the Lord called you by name and paved the way for you before you were conceived?! While many people claim that we are unworthy of Yeshua's sacrifice, I'd like to take a different approach. Yes, it is true that we are sinners and do not deserve all that the Father does for us; but, do you really believe that if God didn't think we were worth saving that He would've sent Yeshua to die for us OR leave the multitude to bring us back when we go astray? While we might see ourselves as unworthy of being rescued, loved, forgiven, and redeemed, I can assure you that God has not thought these things for a single moment!
"When we resign ourselves to the truth that we are His children, it becomes easier to enjoy the freedom of our salvation. We no longer fearfully strive to please the Lord, and living for Him becomes effortless, as long as we remember who we are. Peace will rule our hearts when we believe that His Word is true." ~ Corrie ten Boom (God is My Hiding Place)
The Bible says that faith without works is dead — and this is true — but notice that faith must come FIRST before we can work to bring glory to God! We have not done anything (nor is there anything we can do) to gain the gift of salvation; it is a free gift that God gives us to bring honor to Himself. However, this gift is not meant to be left unwrapped on a shelf like an ornament; it's to be opened, utilized, and actively worn!
So, as we walk into this new week, let's look at how we can bring honor and praise to the One who brought us out of slavery and into a life of freedom rather than working ourselves ragged trying to gain what has already been given. The glory belongs solely to the Father! There is nothing we can do to be less or greater than; all we can do is strive to live for the Messiah, using our precious time on this earth to tell others about this incredible gift, and be set free from the burden of trying to measure up!
"Our sins, our bad choices, perhaps they coat us like mud. But the mud cannot take away the value He instilled in us. Mud does not make a pearl any less valuable. If it did, then why would Jesus have deemed us worthy of the sacrifice of His life? But He loves us, as does the Father. Because we are valuable."  ~ Roseanne M. White (To Treasure an Heiress)