Over the last decade, the popularity of genealogy tests has risen. People want to learn their heritage and understand where they come from; but, unbeknown to many was that by submitting their DNA, families would be reunited, and secrets would be exposed. Taking inspiration from these stories, Olivia Newport has created a series that explores how the mistakes of the past have a way of showing up in the present.
The Tree of Life series centers on a father-daughter duo, Nolan and Jillian Duffy, who live in Canyon Mines, a fictitious town located in the mountains of Colorado. In a small town where everyone knows everyone, not much gets by the townsfolk, and somehow, Jillian and her father are usually the ones who get wrapped into the center of the drama.
As newcomers enter the town for an escape or searching for their history, it's up to Jillian, a genealogist, to dig through the past for answers; in the meantime, Nolan, a family lawyer, mediates between current affairs. Meanwhile, rewinding in time, a whole new world is introduced as readers get to meet the ancestors who shape the protagonist's existence.
"May you always find nourishment for your body at the table. May sustenance for your spirit rise and fill you with each dawn. And may life always feed you with the light of joy along the way." ~ Olivia Newport
Each installment of this series begins with a new mystery, pulling readers into the storyline until they are hooked. Filled with suspense, love, history, and heart-warming narratives, the Tree of Life series will spark your interest in genealogy in a new way. These clean, heartfelt stories will pull on your emotions and have you immersed in the plot until the final page.
Book One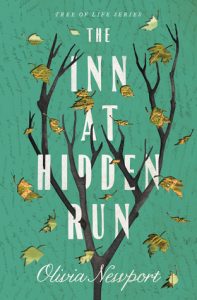 The Inn at Hidden Run Synopsis
Book one of the series, The Inn at Hidden Run, follows the lives of Nolan and Jillian Duffy; Nia and Leo, the owners of Hidden Run B&B; Meri, a girl who turned up on the inn's doorstep; and Eliza, a woman in the 19th century who is determined to help save the lives of those suffering from Yellow Fever.
Split into two time periods, The Inn at Hidden Run focuses on learning the roots of family and finding out God's calling on your life. In the small town of Canyon Mines, Colorado, nothing new goes unnoticed, so when a young, African-American girl turns up at the inn inquiring about the job, people begin to question where she came from. Meanwhile, in Memphis, Tennessee, Eliza Davies is fighting the recent outbreak of Yellow Fever. Refusing her mother's pleas to leave the infected city, Eliza will not stop until the disease is gone for good!
Personal Remarks
A heartfelt story, The Inn at Hidden Run was a well-written and exciting storyline. However, I wish that the modern-day perspective was told in a more natural and less abrasive way. I understand that people would have questions if a girl turned up on your doorstep, acting like a scared puppy, but there was no chance for Nia and Jillian to truly gain Meri's trust. They barged into her personal life, and it seemed that they wanted answers more than Meri did. I also found Nolan a little creepy with the explanations of his contact with his daughter and how he would follow after Meri whenever she ran away.
Nevertheless, overall, I did enjoy the story and loved Eliza's point of view the best. Her story was more natural, and I felt an authentic love emanating from her onto her patients through Olivia Newport's words. I also enjoyed the Christian theme that shadowed the entire book. With talk of God's plans and callings on our lives, I thought these points were well done.
Book Two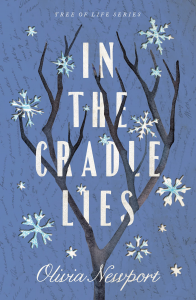 In the Cradle Lies Synopsis
Life in Canyon Mines has returned to normal; however, nothing stays quiet for long, and soon a new mystery plows into town.
Plagued with anger after hearing his Grandpa Matt's last words, Tucker Kintzler has come to Canyon Mines to escape his life in Missouri. Refocusing his thoughts, Tucker becomes obsessed with the legend of Hidden Run, a ski slope that has not been found or used in decades. The slope is treacherous and unpredictable, but will his new friends, Nolan, Jillian, and Kris be able to stop him before he takes the plunge? Family ties will be questioned, friendships will be tried, and loyalty will be the thing that holds them altogether!
Flashback to the 1930s, in Maple Turn, Missouri, where a boy named Matthew Ryder is growing up in a home is full of secrets. Struggling to feel like he belongs, Matthew won't stop until he uncovers the truth that has been hidden for so long; however, when the day of truth comes, Matthew will have to make a decision that will either set him free or lock him in chains.
Personal Remarks
I thoroughly enjoyed this book! It was well written and contained so much more emotion and care than The Inn at Hidden Run. My only complaint was that the synopsis spoils an unexpected event (DO NOT READ THE BOOK'S GOODREADS SYNOPSIS IF YOU WANT TO BE SURPRISED)! That said, I thought that the characters were relatable, the story not rushed, and the revelations shocking. I also loved the background story of Matthew's life because it brought all of the pieces together beautifully. This book is a must-read!!
Book Three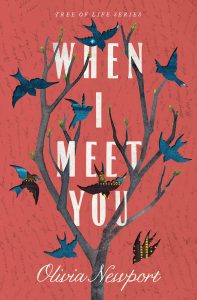 When I Meet You Synopsis
A hundred-year-old mystery, broken family trees, and a trunk full of personal items is a genealogist's dream project; at least, it is for Jillian Parisi-Duffy. Searching for family ties is what she's good at, but when a trunk from 1909 comes into her and her father, Nolan's possession, the search might unravel emotions better left untouched.
Separated by a century, Jillian takes the deep plunge into the past to learn what happened to Lynelle Bendeure, a woman traveling to Colorado before mysteriously disappearing. Where did she go? Why didn't she pick up her trunk when her train arrived in Colorado? What happened on the journey? Was there foul play?
Personal Remarks
A charming and suspenseful narrative, When I Meet You didn't immediately capture my attention like In the Cradle Lies, but, as Lynelle's journey to Colorado continued to pose questions, I found myself unable to put the book down. I loved how Olivia Newport narrated what happened in 1909 while using Jillian's perspective to explain how she came to the ultimate conclusion.
The book was well-done; however, I again felt a bit uncomfortable with Nolan and Jillian's relationship. Just like in The Inn at Hidden Run, When I Meet You had that abrasive and unnatural feel to it. Olivia does such a great job with her historical characters, yet the characters are not as relatable or welcoming when it comes to the modern-day elements. I understand that everyone knows everyone in Canyon Mines, but that doesn't mean there can't be any boundaries! Jillian is a grown woman and doesn't need her father to go freaking out if she disappears for the day! I want to love her relationship with Nolan, but sometimes it feels very controlling. My fingers are crossed that the next book will be more natural, like In the Cradle Lies.
Book Four: Coming November 1st, 2020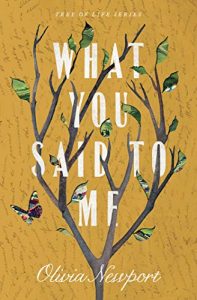 What You Said to Me Synopsis
The year is 1893; Clifford Brandt has built his fortune from the ground up; however, after the price of silver drops, he is forced to close his mines. With no income, banks closing, and violence rising, Clifford will do all he can to protect his family, but at what cost?
Flash-forward to present-day and Jillian Parisi-Duffy is overwhelmed with the files Tucker Kintzler has sent her from Missouri, though she won't openly admit it. With paperwork piled all over the house, Nolan steps in with a solution.
Tisha Crowder is in deep water. Caught shoplifting and facing serious consequences, Nolan, her attorney, works out a deal that could keep her record clean and provide Tisha with a chance to do the right thing. Angry, bitter, and rebellious, Tisha is not easy to work with; but, could this summer job be key to unlocking past events and answering the questions Tisha's been searching for?
Personal Remarks
What You Said to Me is the fourth book in the Tree of Life series and highlights how pain can be passed from generation to generation. While the story was a page-turner and captured my attention, I still couldn't connect to the main characters as I do with the historical ones. I've noticed with this series that while there is a conclusion for the characters in the flashbacks, the present-day characters are left with a cliff-hanger or final remark that gives readers more questions than answers. If this is supposed to be the last book of the series, it could have ended more conclusively.
Overall, I have enjoyed this series and feel inspired to learn more about my family history, though my mom's side will be impossible to explore. We all come from somewhere, and what I loved most about the Tree of Life series was that no matter what happened in the past, we, the future generation, have the opportunity to use our ancestors' experiences to create a better future!
Overall Series Rating:
| | |
| --- | --- |
| My Rating | |
| Positive Content | |
| Godly Element | |
| Swearing | |
| Sexual Content | |
| Violence | |
Ages:13+
*Thank you, NetGalley and the publisher for providing me with a pre-release ebook copy of each of these books. The opinions in this post are entirely my own*