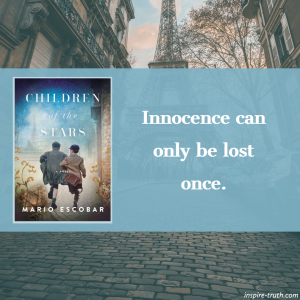 Too often, authors write novels highlighting World War II's horrible events, while few spend time creating a story based on the brave citizens who defied the law to save countless lives. We read about people's grueling survival or perilous journeys through war zones, immersing ourselves into a world of dirt and darkness, but what about the light and hope that remained within so many? Children of the Stars brings both of these themes to life in this phenomenal narrative of two brothers as they trek across war-torn France to be reunited with their parents.
Jacob and Moses have only known the streets of Paris. Though persecution against the Jewish people grows every day, the brothers do not understand the Nazi-fueled hatred until they narrowly escape death in the Velodromo de Invierno. No longer safe in the city they've called home and with no one to look after them, Jacob and Moses determinedly embark on a venture that will take them further than they imagined. From city to city, they will meet an array of people, learning who to trust and how to survive on their own. With each terrifying day, Jacob and Moses will also grapple with their childhoods, wanting to keep hold of their youthly innocence while struggling to be treated as more.

Children of the Stars was a fantastic novel. Gripping from the moment I opened the first page, I was remarkably surprised by this story. Though I have read many historical fiction novels based on World War II, Children of the Stars produced a new look at the war and restored my hope in humanity. It only takes one spark to light a fire, and while so many lost their fight during the war, others held onto faith to push them through. Jacob and Moses' journey will inspire readers to find the good in others and always fight for what is right, no matter the cost.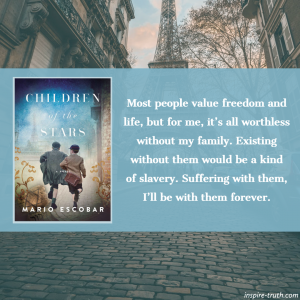 Inspired by true events, it was amazing to learn about the village of Le Chambon-sur-Lignon. One of my favorite quotes from the book was, "From the green valleys of Le Chambon-sur-Lignon, where a village of men and women set their faces against the horror and showed that, armed with the Spirit, the noblest hearts are always capable of overcoming and that the shadows of evil will finally be dispelled until light invades everything once more — for a new generation to believe it can change the world, or at least try." Throughout the book, the author, Mario Escobar, perfectly explains the power of faith and determination; sparking a seed that the next generation can bring change and love into the world. His writing was relatable, allowing us to connect with the characters emotionally and spiritually, and knowledgable. To know that some of these events were true made the story all the more profound. Children of the Stars was a book I will not soon forget and recommend to any historical fiction lovers!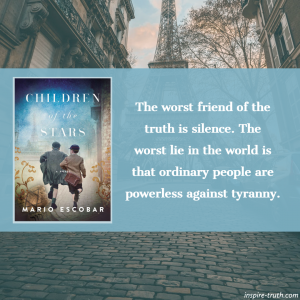 *Thank you to NetGalley and the publisher for providing a complimentary copy of this book. The words and opinions shared in this review are completely my own.
| | |
| --- | --- |
| My Rating | |
| Positive Content | |
| Godly Element | |
| Swearing | |
| Sexual Content | |
| Violence | |
Ages: 14+