Redeeming Love is one of those books that you hear people always recommending. For years, I have had many tell me about this novel, but I was skeptical. In my mind, there was no way this book could live up to the praise it was getting; but, after finally giving in and reading this renowned novel, I can confirm that it is 100% deserving of its acclaim!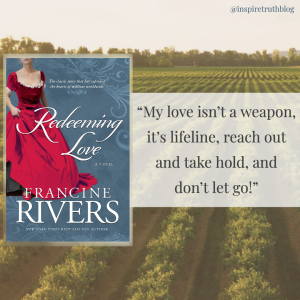 The narrative follows a girl named Angel, who is sold into prostitution at eight years old. Trapped in an industry that has stolen her soul and replaced her joy with bitterness, Angel succumbs to the belief that there is no future for her outside the bedroom walls. With dozens of men walking over her room's threshold each night, Angel is convinced that all men are the same, so when an unusual man comes and asks her to be his wife, Angel barely blinks twice; however, this man is not like the others, and he's not about to take no for an answer.
Michael Hosea is a godly man who has waited his entire life for God to direct him to his wife. After spending years asking the Lord for confirmation, Michael doesn't hesitate when the Father finally speaks. The woman is beyond beautiful, and, at first glance, Michael has no complaints; but, after learning the woman's profession, he begins to wonder if he heard correctly. How could such a hate-filled prostitute who everyone calls Angel be the woman God has called to be his helpmeet?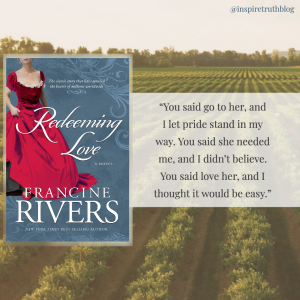 Based on the book of Hosea, Redeeming Love takes you on a journey of pain, suffering, forgiveness, love, and, of course, redemption. Although many of us know the famous Biblical tale, nothing will prepare you for what is within the pages of this novel! 
While it took time for me to connect with the storyline, the themes of this novel have impacted my life and expanded my definition of true love. As I read, I found myself thinking about what it means to be made clean, and the mercy bestowed on even the filthiest of sinners to be washed clean by our savior, Yeshua Ha'Mashiach.
Few books have been able to capture my heart the way Redeeming Love did. I embodied the characters, completely immersing myself into their lives, and saw every scene as though they were occurring in front of me. At one point, I actually jumped in surprise because I could feel the character breathing down my neck, claiming their possession over me!
Francine Rivers does an outstanding job with this masterpiece! It is a romance like nothing I've read before, and a story that I will not soon forget! Redeeming Love was nothing I expected it would be, and yet, it was everything! Despite not being the biggest fan of the epilogue, I can confirm that I have officially joined the Redeeming Love Recommendation Team! If you haven't read this book, then I hope this review inspires you to get a copy; and, if you already have a copy sitting on your bookshelf, maybe it's time to consider dusting it off to reread!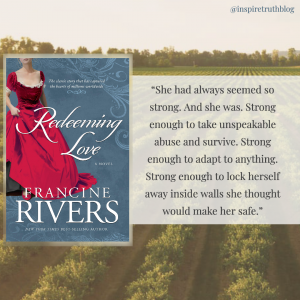 | | |
| --- | --- |
| My Rating | |
| Positive Content | |
| Godly Element | |
| Swearing | |
| Sexual Content | |
| Violence | |
Ages: 18+