How far would you go to find your stolen pet?
On Valentine's Day 2019, Steven Carino left his dog, Oliver, in the car while he bought cigars after a long day at work; however, when he returned, Oliver was gone with no sign of his whereabouts. Feeling as though his heart had been ripped out of his chest, Steven falls apart. Embarking on a search to find Oliver, Steven will not stop until they are reunited; what he doesn't expect is the number of people willing to help him in the hunt.
Oliver: The True Story of a Stolen Dog and the Humans He Brought Together is a heart-wrenching yet uplifting book that reminds us that when we put our trust in the Lord, He will always be with us and help us in our time of need.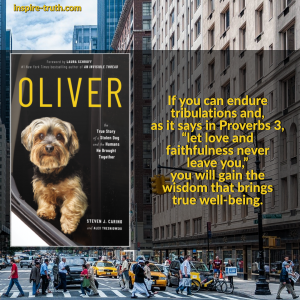 Steven is a fantastic storyteller! His portrayal of the events before and after Oliver's disappearance allowed readers to be right there with him and Oliver as they found their way back to one another. The flashbacks into Steven's life also gave us more insight into who he is and the journey he has been on, adding another element of connection in this incredible odyssey of healing, forgiveness, discovery, and faith.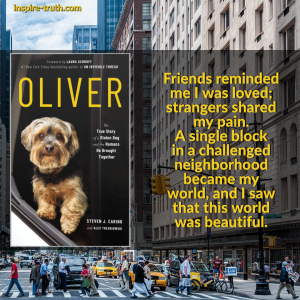 I enjoyed every moment of this book. Steven's words brought everything to life, allowing me to sit front and center for this amazing story of love. Every page emphasized the devotion Steven has for Oliver and vice versa, which will undoubtedly touch the hearts of animal lovers worldwide. Not only was this a book about finding a stolen pet, but it also paid homage to all the people, mostly strangers, who stepped up and took action. Steven's words couldn't be more profound, "Something was happening. Something bigger than me. My eyes were being opened to a greater truth about the world, an insight into our shared humanity, a close-up look at the extraordinary power of love and empathy." While we migrate past one another on the streets, you can be sure that when it comes time to take action, people will be there to lend a hand. Oliver reminds us of this truth and will be a beacon of hope into the lives of all who pick up this book.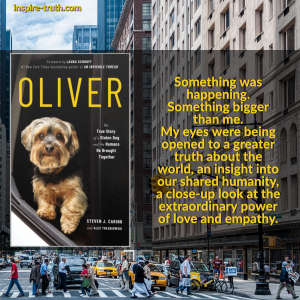 How far would you go to find your stolen pet? All. The. Way.
"Trust in the Lord with all your heart and lean not on your own understanding; in all your ways submit to him, and he will make your paths straight… Have no fear of sudden disaster or of the ruin that overtakes the wicked, for the Lord will be at your side and will keep your foot from being snared." Proverbs 3:5-6, 25-26
| | |
| --- | --- |
| My Rating | |
| Positive Content | |
| Godly Element | |
| Swearing | |
| Sexual Content | |
| Violence | |
Ages: 15+
*Thank you to NetGalley and the publisher for providing me with a pre-release copy of this book. My thoughts and opinions are entirely my own!*
Exclusive interview with the author, Steven Carino
Hi Steven, thank you for agreeing to do this interview for Inspire-Truth. Your book was encouraging and spot on with the topics we are currently discussing. We all go through trials, but it's how we overcome them that make the most moving testimonies. Your book was one of these great testimonies, so I can't wait to hear more about your process and what life is like for you and Oliver now! Let's get started! 
Q. How has your faith changed since February 2019?
My faith has remained as steady as it was before this incident happened. I will say I have been reading more of the ancient Stoics: Seneca, Marcus Aurelius, Epictetus. I find all this very interesting that writings from thousands of years ago can have such an impact on my life today. I have even tried reading Aristotle and Plato, although I need more practice!

But mostly, I am, every day, eternally grateful to my parents, my brother, and God for returning Oliver to my life. The book is a wonderful bonus, and I will do my best to convey this gift to the public.
Q. Are you still in contact with the people from Mount Vernon, along with those who helped in the search for little Oliver?
I still go down to Mt. Vernon and say hello to Manny and Walla, and Janice. I have even met with Rolando. Oliver and I visit to let them know the latest updates on our story.
Q. What compelled you to turn your story into a book?
My co-writer, Alex Tresniowski, has co-written books for my sister Laura Schroff. She has a series of books entitled "An Invisible Thread." Alex came to our little party in Mt. Vernon, NY at "Cleopatra," Walla's hair salon, on March 2, 2019, to celebrate with family, friends, and Facebook followers. Alex saw the outpouring of love and mentioned to my sister Laura that "this guy has touched something special in people. We may have a story here."
Alex and I discussed the idea a few days later, I brought him to Mt. Vernon, and there we began our journey.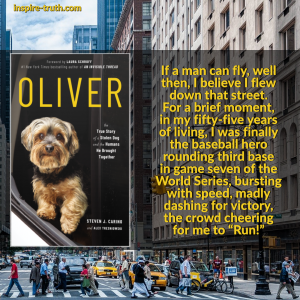 Q. As a new author, what was this writing experience like for you?
The writing experience was amazing. I majored in American History in college, so I was familiar with writing term papers! But the greatest gift of all was reconnecting with my mother in my early years. I had forgotten about that little boy with the big dreams. When I was writing about it, it all came rushing back to me, remembering that there was indeed a time in my life, albeit brief, that I was considered very special. Reading chapter 2 always brings me to tears. I am grateful to remember those times with my mother again.

Q. You co-authored this book with Alex Tresniowski, senior writer for PEOPLE magazine; how much involvement did he have in this book? Did you learn anything while working with him?
I would write chapters; I would also dictate my story over the phone; I also brought Alex to the places that were part of the story. He structured the chapters.  He has a great sense of how a book should "flow." He moved seamlessly from past to present. This was from years of his experience as a writer. I learned that sometimes less was more.  I wrote a lot more "stuff" just to give him background info. He chose what to leave in and keep out. As the experienced writer, I deferred this to him, the structuring of the book.

Q. Was it difficult to relive the events that took place during Oliver's disappearance, along with the memories of your earlier years?
Sometimes it was. Oliver's disappearance was not as difficult as reliving the times as a youth. I was more caught in amazement when I would go back to Mt. Vernon. Just astounded that I had Oliver back in my arms. And very grateful. Very very grateful.
It was not easy discussing my years with my Dad. I loved him, but he made my life very difficult. It wasn't easy discussing those days with Alex. But I felt it was necessary as part of my story and why I came to rely so much on dogs for love in my adult life.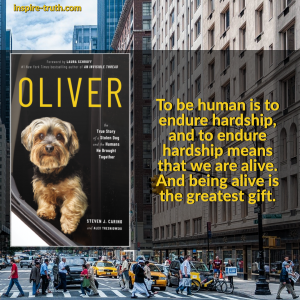 Q. I know you learned a lot during your quest to be reunited with Oliver, but was there something new you learned while recounting the events as you wrote this book?
What I feel I have learned the most is that all my prior tribulations were not the effects of being unlucky, or being a "Carino', or a loser, but they were actually building blocks to make me stronger. What I thought or presumed to be a wicked punishment by the Lord was actually His love for me. This was His discipline.
"My son, do not despise the Lord's discipline, and do not resent his rebuke, for the Lord disciplines those he loves, as the father the son he delights in" – Proverbs 3:11-12 
All these supposed disasters gave me the resolve to conquer the greatest of all personal afflictions—the theft of Oliver. Without the years of discontent and misery, there would be no story of Oliver. This is His gift to me, for all those miserable years. And at this point in my life, with the Third Proverb under my belt, I had the wisdom and understanding to approach this situation His way. We did NOT turn to hatred or vengeance during our search. We used His tools, as I often say.
Ralph Waldo Emerson (1803-1882) said it best in his essay on Compensation – "If you serve an ungrateful master, serve him more. Put God in your debt. Every stroke shall be repaid. The longer the payment is withheld, the better for you, for compound interest on compound interest is the rate of exchange for this exchequer."
Q. If you could tell your younger self one thing now that you've conquered this large mountain, what would it be?
Never give up.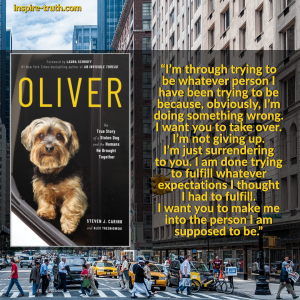 Q. You've also adapted your book for younger readers to enjoy. Was that your choice? Is there a message you want the younger generation to learn through your and Oliver's journey back to one another?
When Thomas Nelson decided to sign us, it was their idea to add a Young Readers Edition. They felt the story had a good message for kids 8-12 years of age. I would like kids to remember my answer to question number 8. I want them to know that although they may get knocked down, every tool they need to get back on their feet is already within them. God does not build anyone incomplete. It is up to us to dig down and uncover those tools.

Q. I saw that you are narrating the audiobook; what was it like to go into the recording booth and tell your and Oliver's story?
The audiobook experience was wonderful. But to add more drama to the experience, my editor secured the dates for the reading. I had submitted a sample chapter, which they liked, and they set up the schedule. She (unknowingly) chose for my first day of reading – October 13, 2020. This day is very special to me. It's the day my mom passed away. She died on October 13, 1976, and instead of going to the cemetery on Long Island to pay my respects, I was reading chapter 2 and the chapter about her funeral on this day. So if you ever listen to the audiobook, I would imagine there will be some extra emotion in certain spots.  I felt that this was her gift to me—the gift of Oliver. We had to do a few takes over again due to my being overwhelmed by emotions. But we got through it!  Reading the Young Readers Edition was a little more fun, though. I was honored to be chosen to read both books and that my publisher had faith in me that I could deliver the story.

Q. Is there a specific quote from the book that you think is the foundation of your journey?
There are SO MANY QUOTES in my life!!  But of all the ones that resonate the most with me, for this story, it is this: that you are never alone. NEVER ever alone.  This was the last step of my inner journey. To realize that I was not alone. When you live by yourself for so many years, you can't help but get the feeling sometimes that you are alone. But the learning and memorizing of the Third Proverb in 2018 began to chip away at that loneliness. And of course, Mickey and Oliver were very helpful too! Their unconditional love and support were slowly building my confidence. 
Also, the remarkable support I received from the community, from my sisters, clients, friends, only became a realization because of the sudden loss of Oliver.  There would be no story without these people and the wonderful citizens of Mount Vernon, NY. I am forever in their debt.  
From Epictetus (50-135 AD) – "When you close your doors and make darkness within, remember never to say that you are alone. For you are not alone. Nay, God is within, and your genius is within, And what need have they of light to see what you are doing."
Q. Here at Inspire-Truth, we're currently writing about turning stumbling blocks into stepping stones. Besides creating this book, how have you been able to turn the traumatic experience of having Oliver stolen into a stepping stone?
The stumbling blocks ARE building blocks.
Marcus Aurelius (121-180 AD) says this – "The impediment to action advances actions. What stands in the way becomes the way."  
The "mountain" of Oliver that the Lord placed in front of me WAS the way to my inner truth. He gave me a monumental gift—a front-row seat to the power of community and love. Of course, it did not seem like a gift at the time.  
He gave me, Steven Carino, a chance to put His Third Proverb to USE. To display in real-time the power of these words in the year 2019.  My gift to Him was making sure I was able to place the Third Proverb in the back of the book. I was adamant about that. Thomas Nelson and HarperCollins Christian Publishing were more than agreeable! They have been incredibly supportive of me since this project began.
Q. And last, but certainly the most important question, how is Oliver?
Oliver is wonderful!  He is so unaffected by all this! LOL. He is on the cover of two books! He is healthy and happy, and we are grateful to have each other. We are both hoping this story will touch the ♥️. I cherish my days with him, and I never forget how close my life came to being something entirely different. I am forever grateful to everyone, every Spirit, that was involved in reuniting us! 

Thank you for taking the time to go through these questions! This book encourages people to persevere and trust in God, and I pray that it will also inspire others to share their incredible stories with the world! God bless, and please give Oliver a hug from all of us!
Thank you for allowing me to answer your questions. It has been very insightful for me!
Oliver is available in stores everywhere, NOW! Click here to buy a copy of this great book!