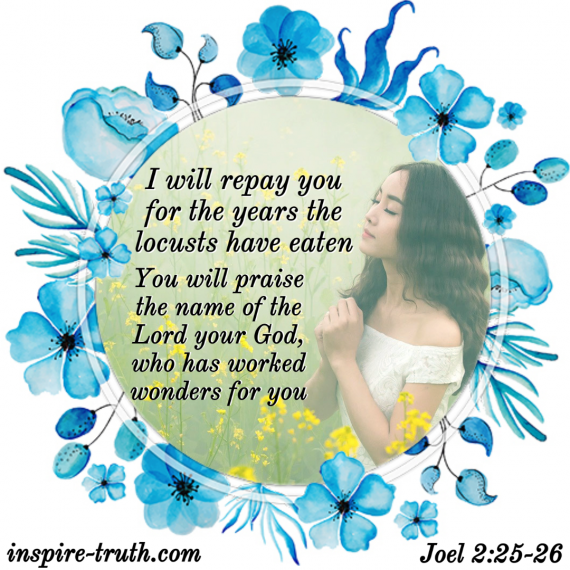 Are you struggling to stand after the locusts have taken everything from you?
It seems like most people I talk to are going through a season of transition. Over the last few weeks, I've watched as my friends move into the next season of their lives; however, while I have been praying and seeking God for His guidance to move me, I am not hearing answers as quickly as everyone else.
The last year and a half have been rough. The "locusts" have stolen much, and my crops are a lot smaller than they once were; nevertheless, as I was reading Joel 2:25-27 and praying the other morning, I felt the Father remind me of all the wondrous things He has done during this time of battle and destruction.
While it's tempting to go into a place of self-pity, comparison, or defeat as you watch everyone else move on with their lives while you remain stuck in place, the best way to push through is by praising the Father and leaning on Him for strength and hope. He is a faithful God, worthy of all our praises!
The road ahead may seem impossible at the moment, but I bet if you take a closer look, you'll notice how God's hand has been guiding you throughout the journey, leading and guiding you to where you are today.
Your prayers are not going unanswered. While doors may be swinging open for others, that doesn't mean God has forgotten about you. He is right there with you, protecting you and doing a mighty work in your life that will bring an even greater restoration — whether on this earth or in eternity — than you can imagine!
Don't give up hope! The locusts might have destroyed everything, but our God is greater and will do more wonders if we would only PRAISE, SEEK, TRUST, and OBEY Him!
Breakthrough is here! Do you believe this?